Downtown Los Angeles Corey Helford Gallery (CHG) is proud to announce his next major solo exhibition All signs point to nofeaturing new work from a Chicago-based artist, illustrator, and toymaker Travis Lamp. put in first August 6e in Gallery 3the show will be visible through September 10e.
The upside-down world depicted in Lampe's paintings is a journey out of the pandemic. Inspired by ancient aesthetics, from Steamboat Willie to Bette Boop and Dr. Seuss, Lampe describes his work as "a mishmash of those ancient influences with Duccio-inspired mountains and the inevitable switch nose." Since 2007, the artist has shown throughout the United States and abroad (including London, Berlin and Italy).
With 19 pieces (including acrylic and gouache paintings, as well as some sculptures), All signs point to no follows the mini-solos of Lampe at the CHG as part of the exhibition of seven artists from the gallery The Magnificent Seven (February 2021) and exhibition of three artists (February 2019).
Regarding his new works, Lampe says: "What does the future hold for us? It's hard to say. That might be a bad thing though. This show was inspired by fortune telling, mystical divination, and an idea I had for this really adorable piece that I never ended up doing. Like the stuff in this show, but much cooler. It happens sometimes. I should have consulted a medium to find out whether I had done it or not. But they are expensive I guess, mostly fronts for money laundering businesses. Either way, death is certain. But I recommend avoiding it.
When asked which piece of the series he liked the most, Lampe shares: "I feel like 'The Fool' [seen above] is one of my best works, even if it is only a small piece. I'm also thrilled when I try to paint the dark with just one light source and it actually works. I don't know why I'm always surprised by this, but that's the way it is. For this reason I am really satisfied with 'TOOL Tree Incident' [seen below] as well."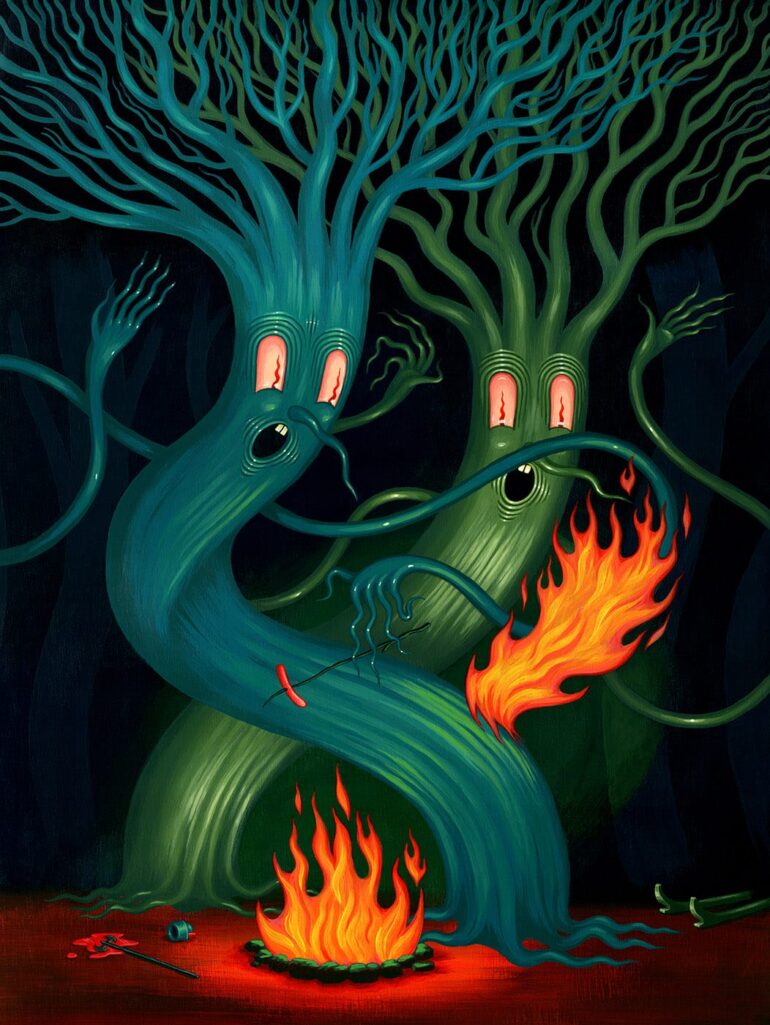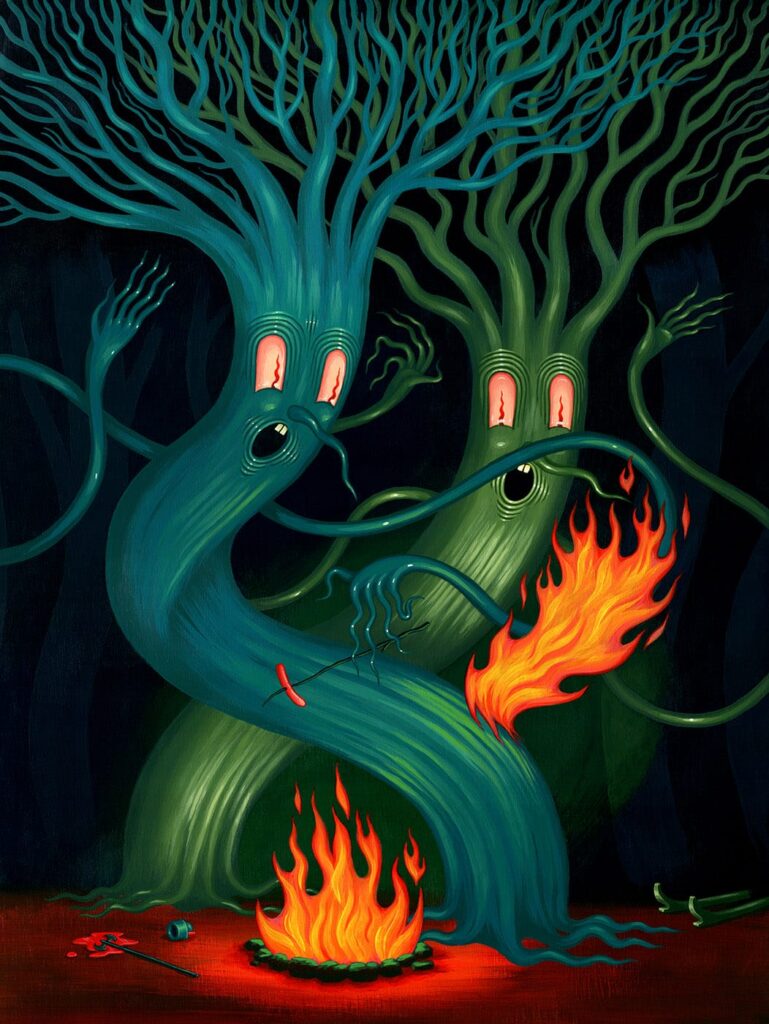 All signs point to no opens Saturday, August 6e of 7:00 p.m. – 10:00 p.m. in Gallery 3alongside a personal exhibition of D*Facetitled Painting on the Cracks, in the Main Gallery and Gallery 2. Until further notice, masks remain mandatory to enter the gallery, regardless of vaccination status.
About Travis Lamp:
Artist Travis Lampe grew up in a small town in Kansas. After earning a degree in graphic design, he took a job in advertising as an art director in Chicago. While making advertisements for breakfast cereals and well-known suppliers of inexpensive furniture over a period of several years, he secretly began to develop his own personal style of illustration, which he describes as "a a mish-mash of those ancient influences with some Duccio-inspired mountains and the inevitable light-switch nose," still inspired by Steamboat Willie, Betty Boop and Dr. Seuss. Lampe's work has been exhibited all over the United States and around the world (including London, Berlin and Italy).In addition, Lampe has been featured in Juxtapoz, Hi-fructose, flavor threadand France brain magazine, among others. He currently lives and works in Chicago.
About Corey Helford Gallery:
Founded in 2006 by Jan Corey Helford and her husband, television producer/creator Bruce Helford (The Conners, anger management, The Drew Carey Showand george lopez), Corey Helford Gallery (CHG) has since become one of the leading galleries for contemporary new art. Its goal as an institution is to support the growth of artists, from young and emerging to well-known and internationally established artists. CHG represents a diverse collection of international artists, primarily influenced by today's pop culture and collectively encompassing style genres such as New Figurative Art, Pop Surrealism, Neo Pop, Graffiti and Street Art. Located in downtown Los Angeles at 571 S. Anderson St. Los Angeles, CA 90033, in a sturdy 12,000 square foot building, CHG features new exhibits approximately every six weeks. The gallery is open Tuesday through Saturday from 12:00 p.m. to 6:00 p.m., visiting hours being Thursday through Saturday from 12:00 p.m. to 6:00 p.m. For more information and an upcoming exhibition schedule, visit CoreyHelfordGallery.com and follow on Facebook, Twitter, Instagram and YouTube. For prints available from CHG, visit CHGPrints.com.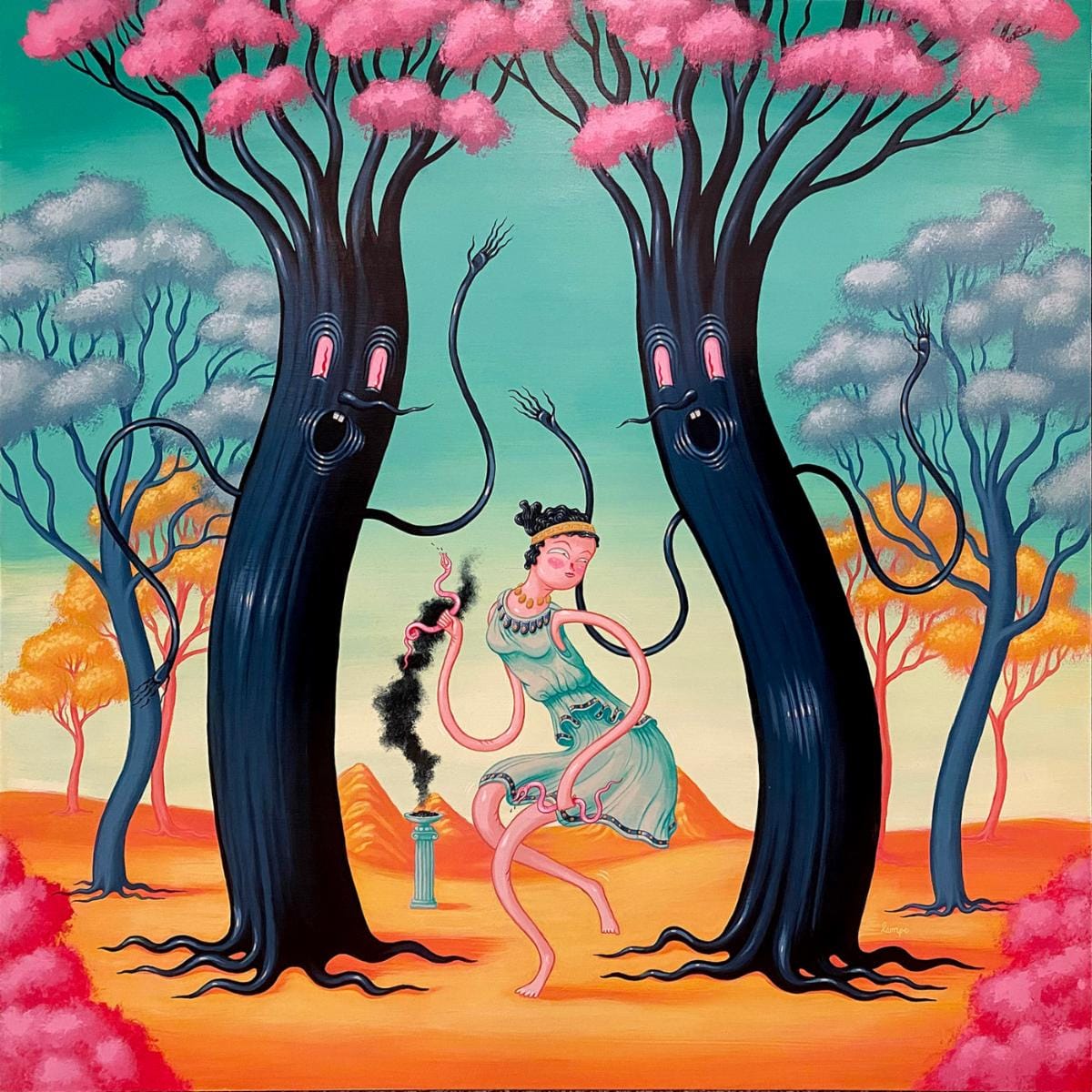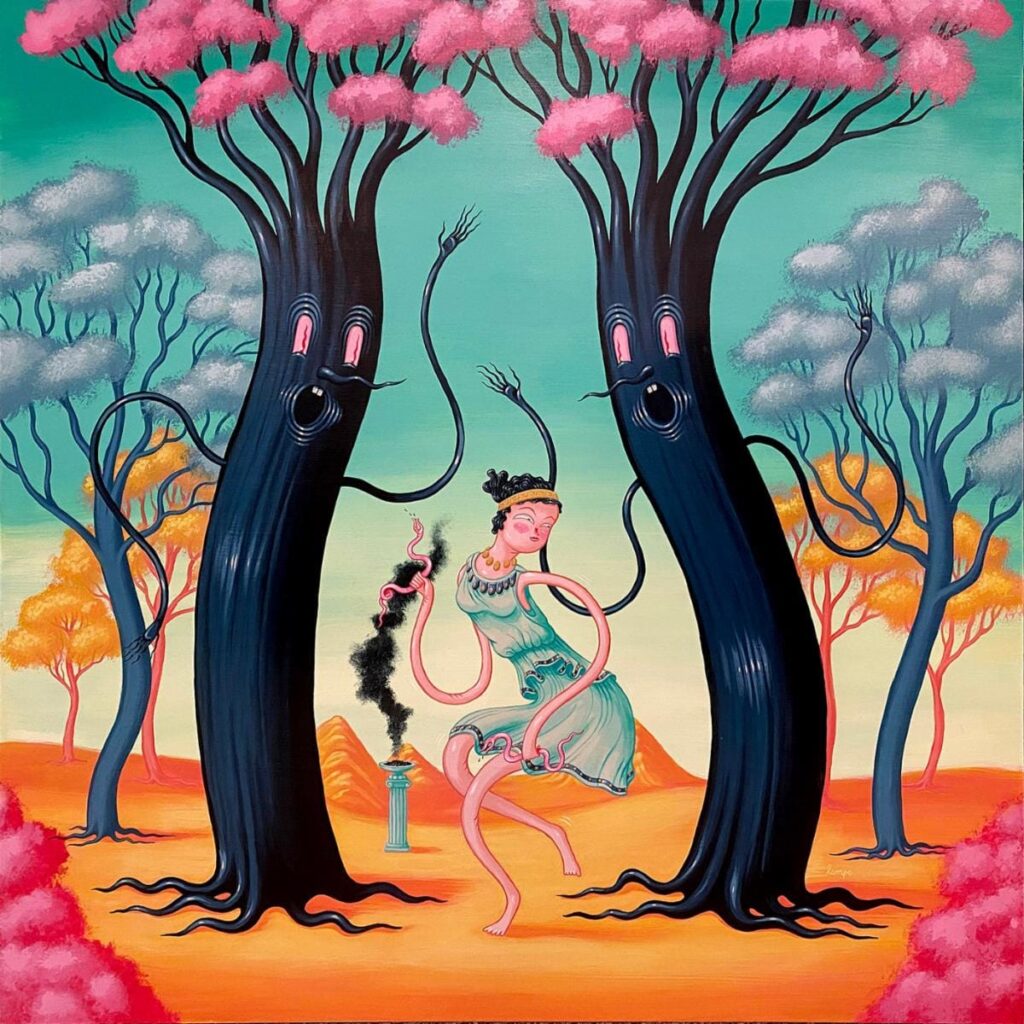 OPENING RECEPTION
August 6, 2022 | 7:00 p.m. – 10:00 p.m.
IN VIEW
August 6 – September 10, 2022
COREY HELFORD GALLERY
571 S. Anderson St. Los Angeles, CA 90033
Open: Tuesday to Saturday, 12:00 p.m. to 6:00 p.m.
Visiting hours: Thursday to Saturday, 12:00 p.m. to 6:00 p.m.
(310) 287-2340