"Archaeologists excavate sites and objects from the past, then write about them; while artists create and invent objects or situations in the present.

Sarah Scott, World Archeology Vol. 38, (Taylor and François: 2018)
"Without the allure of objects – we are trapped in the midst of the swirling black noise of a given sensual space."

Graham Harman, Object Oriented Ontology: A New Theory of Everything (Pelican Books: 2018).
Difficult to resist the "attraction" of a mysterious object: a found object, a displaced artefact, an art object, an anthropological object, an archaeological find.
Archaeologists subject artefacts to hierarchical categories. Artists, by remaking and re-imagining objects, activate apocryphal stories, elevate the status of objects and bring new perceptions.
In Harman's notion of "Allure", an object has a power of seduction beyond its qualities. Each "thing" can contain an essence of this mystery through an imagined intentionality.
Through the mystery and allure of the object, we take a quantum leap – from one possible reality to the next. By examining this reality more closely, through an ontological study, we question and place what things can exist or can be said to exist and how such entities can be grouped according to their similarities and differences?
The exhibition, showcasing the work of 38 international artists, explores the intention to generate new relationships between objects and their associations with the world around them.
The works include ceramics, sculptures, installations, drawings, paintings, performances and more.
Artists: Associated Clay Workers Union (Helen Carr, Sarah Christie, Duncan Hooson and Annette Welch, Diane Eagles, Alison Cooke, Danuta Solowiej, Stephanie Buttle, Jo Pearl, Raewyn Harrison, Jane Millar), Eleanor Bowen, Sean Dower, Fieldnotes, Bruce Gilchrist, Caroline Gregory, Bjørn Hatleskog, Luke Jordan, Miyuki Kasahara, Yev Kazannik, Marq Kearey, Calum F Kerr, Lisa McKendrick, Pol Mclernon, Sean Mclusky, Kevin Quigley, Victoria Rance, James Roseveare, Martin Sexton, Sarah Sparkes, Ian Thompson, Inga Tillere, Marianne Walker, Phill Wilson-Perkin, Mary Yacoob
Organized by Kevin Quigley and Sarah Sparkes
CAN WE EVER KNOW THE MEANING OF THESE OBJECTS? July 8 – 22, 2021 GALERIE 46 gallery46.co.uk
Publication: OBJECTS JOURNAL, an artist's book containing new works and texts by the exhibiting artists, will be available for purchase at the gallery for £ 7
Categories
London art objects
EXHIBITIONS
Keywords
Author
Marc Westall
Mark Westall is the founder and editor-in-chief of FAD magazine Founder and co-editor of Art of Conversation and founder of the @worldoffad platform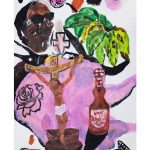 The First Bat Strike brings together a large collection of languages ​​and conceptual frameworks, with each artist bringing a distinct language to the show.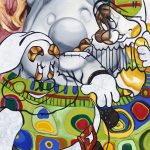 While other galleries present dusty reruns of these vanished ambassadors of the 60s, GALLERY46 presents five contemporary artists very alive, active and working in POP… NOW!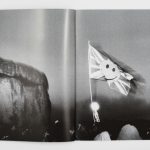 Exhibition and book launch at GALLERY46, documenting life in a circle of young independent Londoners; gifted for music, the arts and the illicit. Its content is the visual culmination of a lifestyle; photographed over 5 years, which developed into a long-term project as Matt's experience and interest in photography grew in parallel.
THIS SPACE I BELONG presents the contemporary documentary works of fifteen emerging artists. Informed by the collective need to feel a sense of belonging to our environment, the exhibition explores notions of conflictual identity, community, our environments and change, exploring current cultural and socio-economic issues.
Source link